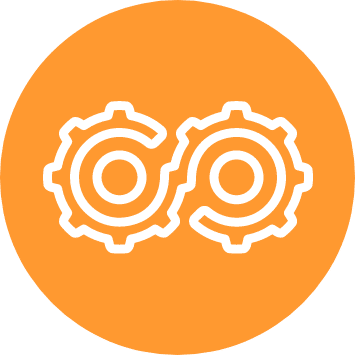 DEVOPS CONSULTING SERVICES
We help you integrate your developers and operations teams to improve collaboration and productivity by automating infrastructure and workflows, and continuously measuring application performance.
In the last three decades, the digital drive has increased the need for software for supporting businesses to become an integral part. Companies of all sizes satisfy their customers by using software to optimize operational efficiencies. It is for transforming throughout the value chain like logistics, operations, and communications. Similarly, software companies need to evolve for developing and delivering software and applications.
DevOps combines cultural practices, philosophies, and tools that help software companies increase their ability to deliver services and applications fast and easy. It is different from the traditional infrastructure management processes and software development as it enables software development companies to develop and deliver software products quickly to outsmart their competitors. We offer the best DevOps consulting services in the UK for delivering software products in time and with high quality to improve our clients' business.
For many years, our well-designed and innovative DevOps practices, with the help of its many tools, have integrated our client companies' development and operation teams. It increased their productivity to reduce the delivery time of the software products. Hence our clients can bring their products fast to the market before their competitors. Also, with quick and effective updates, they have become market leaders in their niche of software product business.
Our certified and trained DevOps professionals are the backbones of our thoughtful design of DevOps practices for our clients. They help in the fast delivery of software products and with high quality. It enables our clients to not only satisfy their customers with their quick delivery of products but with high quality and regular updates. Our experienced team with enough expertise integrates the development and operational teams to not siloed but work in tandem, understanding challenges, and opportunities. Hence with the best DevOps practices, they can add many values to the production chain. It includes continuous development, integration, testing, deployment, delivery, and monitoring.
KEY ADVANTAGES OF DEVOPS CONSULTING SERVICES
IMMEDIATE IMPLEMENTATION OF REQUIRED FEATURES

REDUCE IT INFRASTRUCTURE COSTS

ENHANCED RELIABILITY OF THE IT INFRASTRUCTURE

HASSLE-FREE SOFTWARE DEVELOPMENT AND DELIVERY
DEVELOP AND TEST PRODUCTS IN A PRODUCTION LIKE ENVIRONMENT

VALIDATE QUALITY CONTINUOUSLY

AUTOMATED DEPLOYMENT AND MANY MORE
WHAT CAN YOU GET FROM US?

Our cloud deployment enables our clients to deploy their products for public use using many of our resources.

We enable our clients in their critical processes, like responding to customers' queries by ensuring precise resource allocation for their services by automating their workflows.

We enable our clients to stabilize their software performance with state-of-the-art technology by providing them with the best CI or continuous integration and CD or continuous delivery.

We help our clients develop production-ready software versions by our advanced automated testing process for timely delivery.

Though our automated workflow and testing leave no errors in the delivered products, we also take additional safety measures for identifying any security threats to prevent such lapses.

Our automated logging system will enable our clients to quickly check and audit our tools and records for research and analysis.

Smart Monitoring and Alerting
Our smart alerting and monitoring system will deliver notifications in emails and SMS to solve issues quickly and ensure hassle-free software operation to provide an excellent customer experience.